THE UPDATED NEW ANNEX 1 – A New Requirement for Sterile Goggles
IMAGE CREDIT: ELIS CLEANROOM
As the publication for the revised Annex 1 of the GMP guidelines is fast approaching, the new guidelines add a requirement for sterile eyewear and garment change at least every work session.
Previously, only masks and gloves were mandated for frequent change, although it is now imperative outlined in the Annex 1, for sterile eyewear to be mandated for such frequent change too. While you may currently conform with the new requirement, there will be some of our customers that will have to make changes to their gowning procedures.
There is high emphasis on the necessity for sterile eyewear to be provided for every worker at each work session of an appropriate size. Sterile eye coverings should be worn to cover the eyes and the facial skin around them. Goggles serve this purpose, preventing the shedding of droplets and particles contaminating a product.
The revised Annex 1, urges us to be attentive to the goggles undergoing sterilization and being in integral packaging prior to use.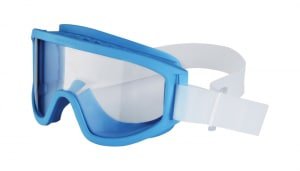 Introducing the Univet Anti-Fog Goggle
DC6115: UNIVET POLYCARBONATE SILICON VENTED ANTI-FOG GOGGLE
The Univet cleanroom goggle is designed for use in rooms with controlled contaminations (sterile and clean rooms) or in aseptic conditions; its soft structure supports multiple cycles of sterilization without perceptible changes. For maximum adaptability to every user the device has a wide silicone elastic band with an innovative quick adjustment system and can be equipped with an additional RX insert.
There are a number of additional features that are built-in to this goggle.
ANTI FOG COATING – Available with an anti-fog coating for maximum wearer comfort and workflow efficiency
SUITABLE FOR GLASSES – Made of an anti-allergic material, with a panoramic view and suited to wear on top of normal glasses. These goggles will provide clarity and comfort for extended wear
DECONTAMINATION – With our validated wash and sterilization process, you are ensured with consistently clean goggles
RX INSERT – If required, there is an additional RX insert which can be applied, for an increased protection combined with the correction of visual defects; combining normal eyewear with prescription lenses.
TRACEABILITY – Our goggles are chipped and tracked to provide insight regarding the amount of goggles in circulation, and gives you the ability to track the life-cycle of the goggles.